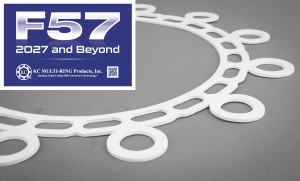 A line of expanded PTFE and elastomeric gaskets engineered using our patented design to fit your piping. Our gaskets are an integral part of the KC Sealing System of gaskets, backing flanges.
KC Multi-Ring Products, Inc. gives the UHPW user the most comprehensive and best-designed system for sealing and installing critical flanged joints.
Great care has been taken to provide a leak-free seal and laminar flow at piping and valve manufacturer's recommended bolt load torque. Our gasket design also provides nearly equal gasket compression around the entire flange face.
Gaskets are cleaned at our factory, and shipped in individually sealed bags for cleanliness until installation. Each bag is clearly marked with part number and description.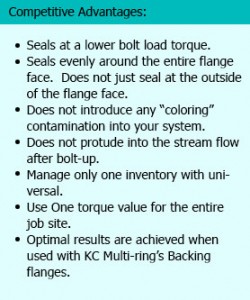 The patented KC Multi-Ring® design provides a positive seal at up to 50 lower bolt load than conventional gaskets of like material. Our gasket is engineered to provide an equal clamping force around the entire flange face.
KC Multi-Ring® UltraPure gaskets are available in fullface "universal" and ring styles. Since the universal gasket can be used with both socket fusion and buttweld flange adapters, you only have to manage one inventory. The ring style design is available for either socket fusion or butt-weld flange adapters.
KC Multi-Ring® gaskets are available (also cleaned and bagged) for Schedule 10 piping frequently found in water conditioning systems. The KC Multi-Ring® design is available for Old ANSI and New ANSI styles for all of your gasketing needs.
The same torque value (per pipe size) is used for universal and ring-style, and New ANSI raised-face gaskets.
UltraPure and Ultra High Purity gaskets are available in expanded PTFE and elastomeric materials. Non-UltraPure gaskets can be manufactured from any other gasket material, including FPM, EPDM and many others.
TECHNICAL DATA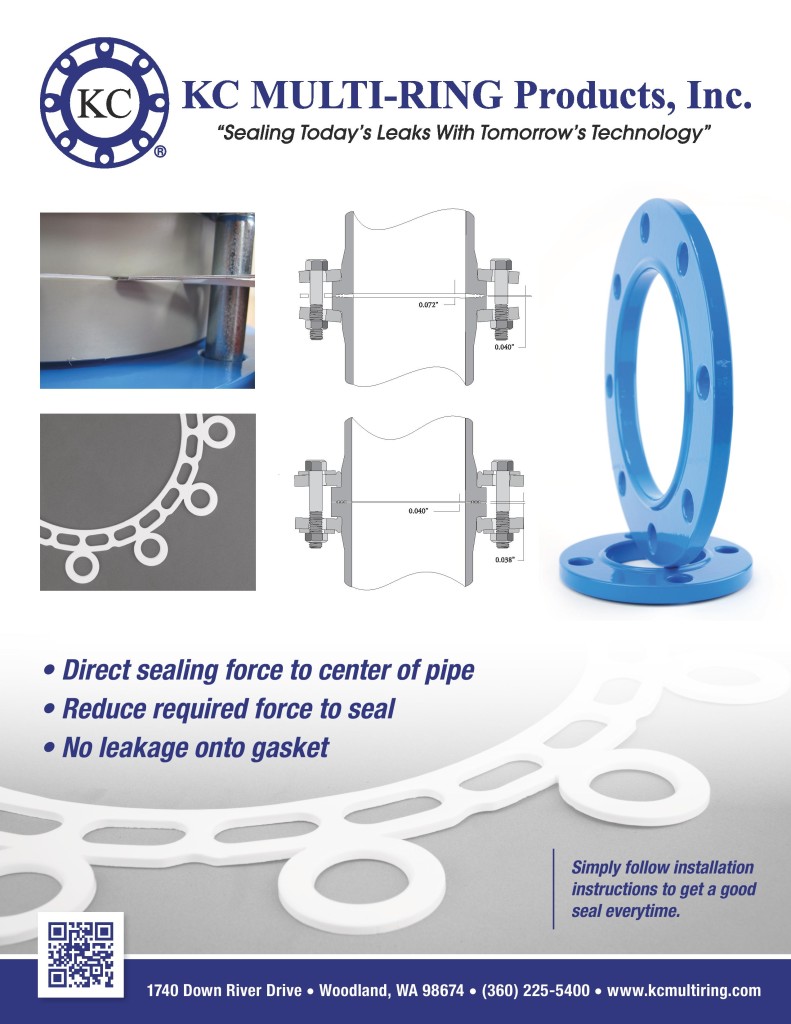 Information regarding ePTFE material, for information on other materials contact KC Multi-Ring.
Material: 100% expanded PTFE, with multi-directional strength
Temperature Range: -450 deg F to +600 deg F (-268 deg C to +315 deg C)
Chemical Resistance: Resistant to all media in range of pH 0-14 (except molten alkali metals and elemental fluorine, particularly at elevated temperatures.)
Operating Pressure: Vacuum to 3,000 psig (200 bar)
Stability: Not subject to aging and can be stored indefinitely
For more information on all the gaskets we provide please follow the link below